Montreal is a city that never ceases to captivate. It bathes in rich history, culture, and innovation. Beyond its world-famous festivals, delectable poutine, and the allure of Old Montreal, there lies a lesser-known secret to experiencing the city's vibrant pulse: its hostels.
These aren't simply places to lay your head after a day of exploring; they're lively centers of tales, conversations, and peeks into Montreal's ethnic stories. Travelers from all corners of the globe converge in the best hostels in Montreal bringing together an array of languages, cultures, and perspectives.
As seasoned travelers, we understand the delicate balance between wanderlust and budget constraints. So we've curated this guide especially for you.
We have considered the best of the best customer reviews and feedback to prepare a list of the best hostels in Montreal in 2023 to fit your choice.
Table of Contents
Top 10 Best Montreal Hostels in 2023
Oh la la! If you're itching to experience Montreal's vibe in its full glory, M Montreal has got your back. It is a modern escape set in an ancient building, just minutes from the Berr-UQAM station – one of the best hostels in Montreal.
If you are looking for comfy dorms with those fancy schmancy bunk beds, M Montreal is the place for you. These bunks which are handcrafted in Montreal, come with the works: outlets, lights, personal hangers, and even a curtain!
But that is not it. If you want to take a quick swim, you can dive into their rooftop swimming SPAs (Heads up! Might be closed occasionally) You can even enjoy a Karaoke night at the M Bar.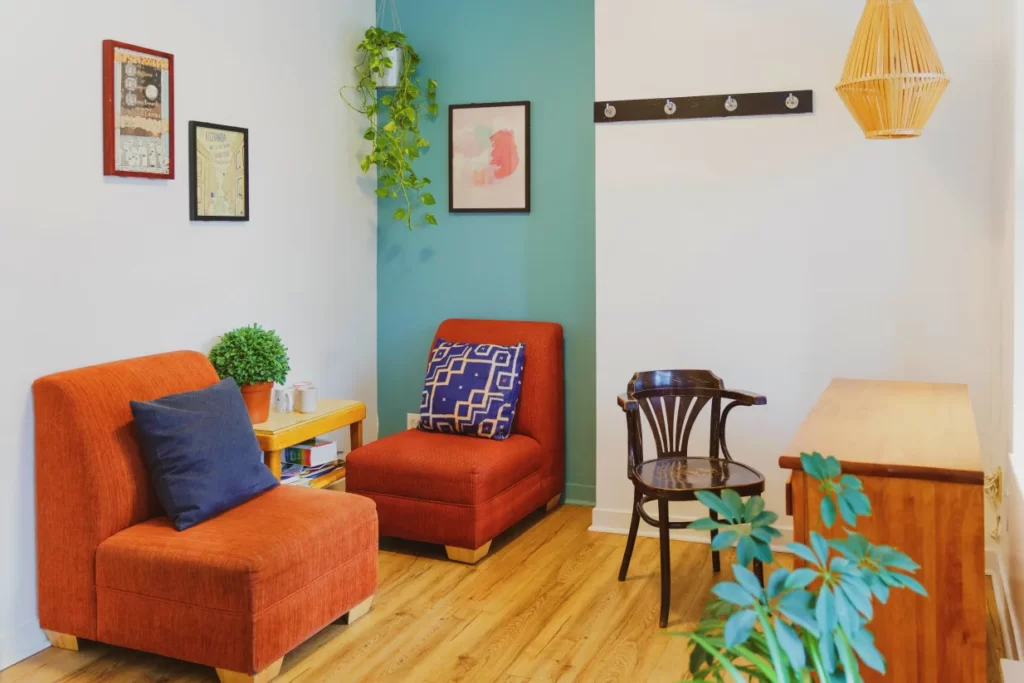 This hostel is the ultimate social hub and a kickass party hostel if you're looking for the soul of Montreal. It is located at the heart of Auberge Saintlo and perched just a block from the Lucien-Allier metro.
It is a direct ride to Old Town's charm and downtown's hustle. If you thrive on making instant connections and mingling with tourists from around the globe, this place is your haven!
Here you can start your day with a *free* pancake breakfast. Later you can join their foot or bike excursions and go Poutine tasting! By night, their cafe bar transforms into the city's rendezvous hotspot.
If you need to work while you're on vacay, they've got superb coworking spaces, complete with tech essentials. They also have the friendliest staff. This place is not just about a stay; it's about living the Montreal vibe in one of the best hostels in Montreal.
This hostel is one of the best hostels in Montreal especially noted for its immaculate consciousness and environmental-ness. Guests can choose from spacious dormitories to rooms boasting private ensuite bathrooms.
If you are a summer guest here, you get the privilege of participating in rooftop concerts and BBQ parties. It is adjacently located to renowned attractions like the bustling Boulevard Saint-Denis, the historic Old Montreal, and the verdant Parc la Fontaine, among others.
This hostel is located within walking distance of the renowned Latin Quarter and the Mont-Royal Mountain, offering a panoramic view of Montreal.
If you choose to stay here, the staff will make sure that all your needs are meticulously attended to.
If you are a huge fan of history and art, say hello to the Alternative Hostel of Old Montreal! It is in a majestic 1875 warehouse where every nook and corner whispers tales from the past.
It has it all – rugged rock walls, gleaming hardwood floors, soaring ceilings, and those captivating arched windows! You will feel right at home if you're a traveler seeking fresh vistas or an artist chasing inspiration.
Moving onto what is so "alternative" about this auberge alt hostel- they are not just a place to bunk; they are an eco-friendly artsy haven drawing their vibrancy from Bohemian vibes.
This hostel is one of the best hostels in Montreal. However, a small heads-up, they don't have an elevator so you might want to get ready to walk up those flights of stairs.
Samesun Montreal Central is not just another hostel—it's your ticket to Montreal's vibrant heartbeat. It is conveniently situated amidst a haven of shopping, eateries, and iconic sites like the Notre-Dame Basilica.
When you're here, you're not just staying; you're living in Montreal. If you are feeling some post-exploration blues or wondering where the local party pulse is every night, this hostel dials up the city's spirit with its very own events!
Fellow travelers also vouch, "if you're clueless about the evening, just groove with the hostel brigade; they know the city's best beats!"
You also get to wake up to an invigorating free breakfast with waffles, eggs, fresh fruit, and more. At night you can always swing by their Rendez-Vous Bar for a wallet-friendly drink or two.
This hostel is one of the best hostels in Montreal with a European essence! It is situated only five minutes away from two main metro stations. It is like the heart of Montreal unraveling in your footsteps.
"Apéro" in French whispers the start of something delicious. And, boy, does this place live up to its name! It is nestled within the vintage charm of an 1880s greystone and offers the intimate setting of just 30 beds.
The location is a shopper's paradise because it's located in all the shopping attractions. it's also perfect for those who fancy a snug morning snooze after a late-night party. Got a load of laundry? Want free internet? Crave a cozy kitchen space? Check, check, and check!
Hellostel is a modern nomad's oasis. It is like a gateway to Montreal's vibrant heart being situated just 2.3 km from Berri Uqam Metro Station. Most rooms here offer tantalizing views of Montréal's skyline.
At this hostel, you get an infusion of nature with a lush garden and a chic shared lounge to unwind. And on sunny days or starry nights, you can even head to the terrace for some fresh air and city views.
If you are a minimalist, you will certainly enjoy their simple design rooms as they are one of the best hostels in Montreal. And, you can kickstart your mornings with a choice of continental or American breakfasts.
Since this area is known for scenic hiking trails, you can easily explore outside. Plus if you fancy pedaling or driving, Hellostel allows hiring bike and car hires so you're covered there.
This hostel is situated right at the heart of Old Montreal promising an immersive stay in this historic city. This hostel brags about its proximity to the Old Port of Montreal a mere 5-minute stroll away. Location is a definite plus!
But it's not just that. For those keen on exploring, Montreal's iconic Notre Dame Basilica is only a 9-minute walk away, while the Château Ramezay beckons history buffs just 3 minutes away.
You can choose from a variety of room options – whether you fancy a bed in a 6-bed mixed dormitory or a single bunk bed in a mixed room. If you're lucky, you might just snag one of those rooms with a breathtaking view.

If you are feeling peckish after a long day or just in the mood for a chat, you can head over to the shared kitchen and lounge area. This hostel will guarantee you a hassle-free stay with its 24-hour front desk and on-site laundry facilities.
If you are seeking a quaint yet vibrant stay in Montreal, this is the perfect hostel for you.
Auberge La Muse will take you down the picturesque Rue Saint-Jean-Baptise, lined with chic shops and delectable eateries.
This is a charming hotel in the heart of Baie-Saint-Paul's Charlevoix Region. It is an artful blend of comfort and culture.
If you are a foodie, you should definitely not miss out on the in-house La Muse Bistro. You can relish dishes crafted from local ingredients, complemented with the perfect drink from the bar.
For adventure seekers, the breathtaking Caps de Charlevoix park and the famed ski resort, Le Massif de Charlevoix, are a mere 15 minutes away! You should go to the concierge at the hostel if you want the best Montreal hostel experience and local tips.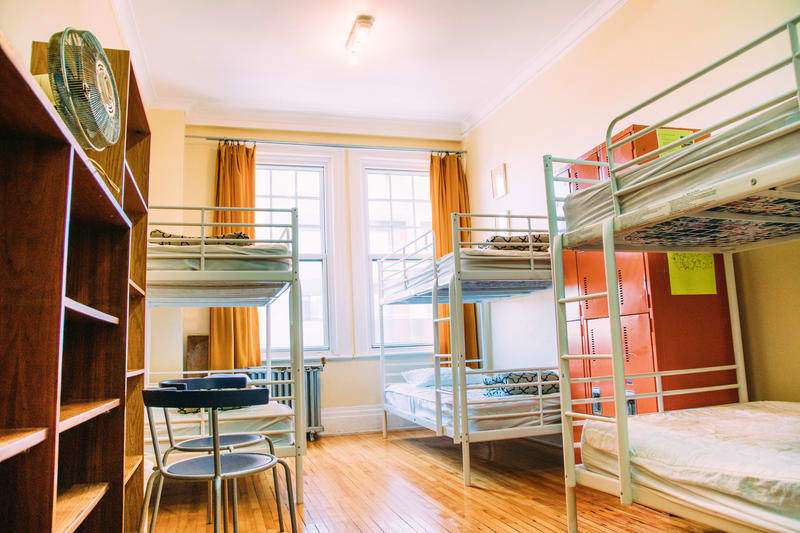 If you are looking for an authentic experience, Alexandrie Hostel Montreal is the right place. It is located at the nexus of popular districts like the Old Town, Latin Quarter, and Chinatown. You're never more than a few steps away from the city's best attractions, eateries, and bars.
This hostel is renowned for blending comfort, community, and culture seamlessly. You can choose from a range of rooms: from ensuite dorms with AC to budget-friendly, laid-back shared dorms.
At Alexandrie, you will find a spacious kitchen, boasting five refrigerators if you want to cook for yourself. You can even bond over board games in the lively common room and enjoy communal dinners.
Since Montreal nightlife is legendary, perhaps you might even want to prep for a night out with fellow travelers that you meet here.
Our Final Words
As we wrap up our journey through the best hostels in Montreal, it's evident that affordability doesn't mean skimping on experience.
Each hostel, with its unique ambiance and narrative, gives a piece of Montreal's richness, reminding us that travel memories aren't measured in money, but rather in the depth of interactions and experiences.
These hostels in Montreal are gateways to friendships and hubs for shared tales as they are some of the best party hostels in Montreal. You can consider them to be a testament to Montreal's welcoming spirit as you chart through this wonderful city collecting memories.
We hope that the list we prepared has been of help to you in embarking on your journey to touching Montreal's skyscrapers and exploring its deep-rooted history whispering tales from the past.