You don't need a time-turner or a magic carpet to journey back to the city of love once you've returned home. There is only one thing you need: a souvenir that will always remind you of Paris. 
Unsure what to snag during your first trip to Paris? Worry not! Our detailed guide will make you feel like a Parisian local, scouring those quaint little shops and vibrant marketplaces.
Ah, Paris! A trail of excitement follows the mere mention of the city's name. Like a rookery filled with doe-eyed romantics and starry-eyed poets, it magnetizes dreamers from all corners of the world.
Its maze-like cobblestone streets are dotted with artifacts that show the city's long history. Paris is not just a city; it's a living, breathing work of art that soothes the soul and the mind.
Get a good Paris travel book so that you don't miss the hidden gems and must-visit attractions in the city of Love!
When it comes to souvenirs, Paris breaks free from the prison of 'more of the same.' Here, a keepsake is not some factory-stamped doodad afterthought.
Every strut down the Parisian streets is a runway show in itself. When you're visiting the grand dame of fashion, very few can resist shopping in Paris.
Table of Contents
What to Buy in Paris?
1. Parisian Clothing
When you're looking for things to buy in Paris, it's impossible to resist the vibrant carnival of textures and colors that dance behind the windows of famous Parisian fashion houses.
From haute couture gowns that whisper tales of opulence to buying a designer bag in Paris that lends an effortless chic air, there's something for everyone's suitcase and style.
2. Unique Accessories
Whether it's a handcrafted jewelry piece from the best shopping streets in Paris, a cashmere scarf soft as an early dawn breeze, or a jaunty beret — Parisian accessories can transform a simple outfit into a reliable fashion statement.
Remember, every accessory tells a story, and who wouldn't want to narrate a tale of a Parisian adventure to their friends back home?
3. Footwear
And let's not forget the footwear! French ballet flats are not only comfortable but are like Parisians' secret fashion weapon. If you're wondering what to buy in Paris to elevate your style, these flats are a must-have.
However, if you prefer the heel click echoing through cobbled lanes, opt for chic boots straight out of a Parisian boutique.

4. Wine and Cheese
Food has to be at the top of your list when you're looking for the best things to buy in Paris. Bid adieu to frugal diet plans when in Paris, for the city rejoices in the tantalizing symphony of culinary delights.
Now then, who'd leave Paris without some infamous French wine and cheese? Whether it's the robust Bordeaux or the aromatic Camembert, you'll be transported to the sun-drenched vineyards or the bustling farmers' markets with every sip or bite.
There's no such thing as 'too much cheese', especially when it comes to things you can only buy in Paris!
5. Cooking Ingredients
Don't let the memories of delectable French gastronomy fade when you return home. Bring back the magical unicorn of cooking ingredients like truffle oil, dijon mustard, or those humble herbes de Provence. Get ready to create your very own French culinary masterpiece!
6. French Artworks
Paris doesn't just incubate artists; it shapes its very topography with strokes of creative genius.
Parisian artists' studios are treasure troves of remarkable artistic bounty. Procuring a print or an original is not just supporting local artists; it's also bringing back an emotional piece of the city to your home.
7. Coffee Table Books
Books that narrate tales of French art, architecture, or photography make an intriguing conversation starter. They're like rendering a portable museum narrating stories drenched in Parisian colors.
8. Vintage Posters
Longing for a cinematic flashback? How about iconic French cinema or Moulin Rouge posters to add a dash of je ne sais quoi to your personal space?
9. French Skincare
French skincare, or should we say skin sorcery? It's no mystery why Jane Birkin or Catherine Deneuve's skin looks drop-dead gorgeous. If you're still unsure about what to buy in Paris for your skincare regimen, these products are the key to that radiant Parisian glow.

To seize a piece of this skincare magic, stock up on French pharmacy brands – they aren't just lipstick and rouge, they're potions of youth bottled within layers of science and tradition.
10. Perfumes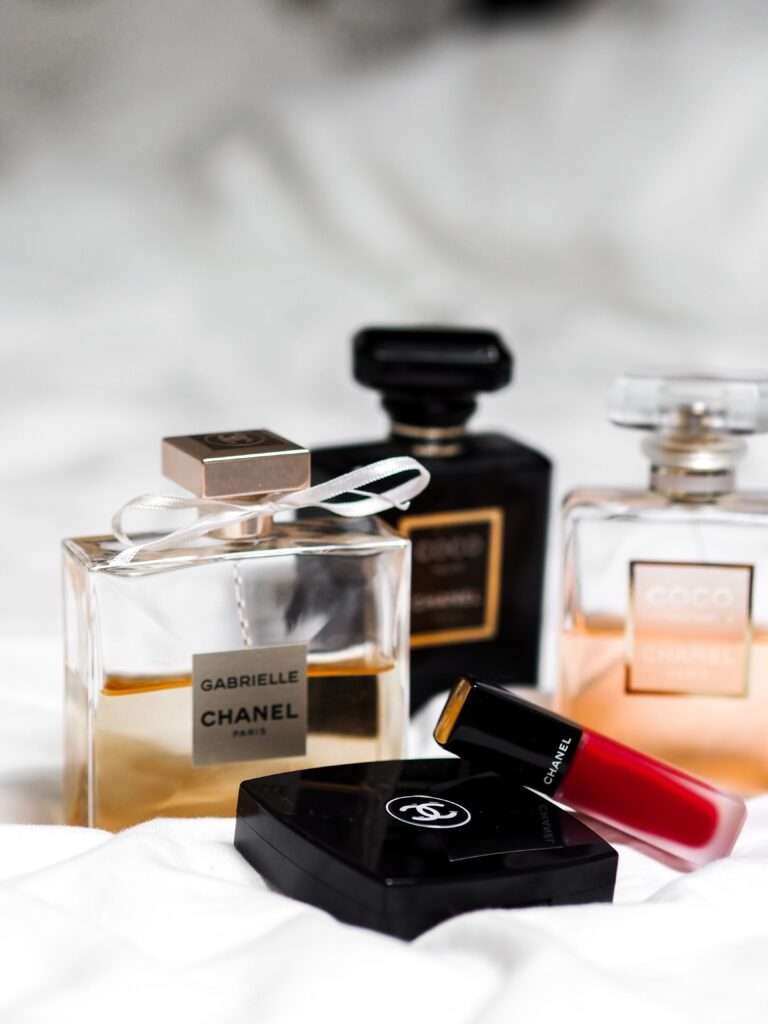 High-end perfumes are some of the best luxury items to buy in Paris for tourists. Coco Chanel once stated, "A woman who doesn't wear perfume has no future." So, who are we to argue?
Whether it's the floral symphony of Chanel No.5 or the earthy allure of Terre d'Hermès, French fragrances are the invisible yet unforgettable accessory in your daily ensemble.
11. Soap and Bath Products
Ever wondered what Marie Antoinette might have smelled like? Now you can smell like French royalty too! The tradition of French soap-making is rooted in centuries of craftsmanship and a clear understanding of luxury. From honey and lavender to mimosa and verbena, the scents are truly "magnifique!"
The organic ingredients and breathtaking scent of these soaps make them one of the best gifts to buy in Paris for your friends and family.
12. French Linens
The unrefined elegance of French linen echoes the enduring beauty and quality of a timeless Parisian home. It's raw textures and casual elegance invite you to a lifetime of cozy comfort.
13. Candles and Scent Diffusers
Can't replicate the dawn-streaked Parisian skyline at home? Don't worry. You can still seize the essence of a Parisian evening with French-made candles and scent diffusers. It's like bottling the soulful ballad of Paris into tiny jars of wax and wick.
14. Antique Treasures
Imagine sipping café au lait amidst a lush Parisian apartment filled with vintage finds and antique trinkets. Cruising Paris's flea markets can reward you with such rare treasures. Finding a dusty, time-worn trinket is like unearthing a piece of history—it's romantic, rewarding, and undoubtedly Parisian.
Our Final Words
What you bring from Paris stays with you forever. From a classy beret to a fragrant soap, from artistic prints to time-weathered trinkets, every Paris souvenir shop reflects a visceral reconnection to the city.
As you stroll through Paris's enchanting Christmas markets, you'll find a treasure of unique European gifts to bring home for your friends and family!
If you're wondering what to buy in Paris, the options are endless. But remember, shopping responsibly and respectfully is a must. After all, each purchase is an endorsement of a tradition, an artist, or a masterpiece of craftsmanship.
Frequently Asked Questions
Where can one find authentic Parisian pieces without overpaying?
From bustling Jewish quarters in Le Marais to bohemian huddles in Montmartre, characterful Parisian districts and flea markets are spots to snag authentic pieces without burning a hole in your pocket.
How to know if an item is French-made?
Always look for the 'Fabriqué en France' (Made in France) tag. It ensures quality and promotes local craftsmanship. Some of the best brands to buy in Paris will feature this tag. 
What are the customs regulations for bringing back food items?
While bringing back culinary souvenirs is a tasty idea, ensure that they comply with your country's food import policies. Always declare the food at customs to avoid penalties.
The enticing siren song of Paris is difficult to resist, and once you've heard it, the tunes remain in your heart forever. And having a Parisian souvenir? Well, it's like preserving a piece of your heart entwined in Paris's charm for the world to see. Bon voyage, and don't forget to shop for those treasures!